QM12MP Multi Purpose Monitor
Q Motion Series Downloads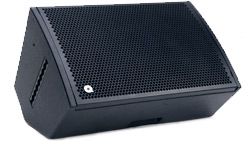 The QM-12MP multi purpose monitor is a combination high-output stage monitor/front of house speaker in a compact low-profile enclosure. This fully professional system allows variable positioning for a choice of floor monitor baffle angles, or vertical easy pole mounting and overhead rigging.
This is the ideal speaker choice if you need a very high performance foldback monitor one day and a flown front of house system the next.
Quest Engineering have developed a 1.4" exit 3 inch coil HF driver for the QM12MP and FR speakers that will deliver the power handling of a 2" horn exit driver with the sonic benefits of a smaller format. The result is an exceptionally smooth mid-high frequency response making the QM12MP an exceptionally easy to tune fold-back monitor. Only the bare minimum EQ is required to get maximum SPL from this monitor on most stages and the wedge profiles give you a choice of angles to put the sound where it is needed.
The QM12MP is manufactured and sold in left and right pairs to enhance the versatility of this system. Not only is it the ultimate foldback monitor but optional Aero-track fly-ware mean the QM-12MP is a welcome addition to any professional audio production company.